What's on your ballot?
Along with every general election season comes the media takeover of the presidential race. It takes over every news outlet, social media site, and the public consciousness for over a year and a half. But, what isn't focused on nearly as much, and what is arguably more impactful to the lives of everyday Americans is the State and local elections that go along with the Presidential election. This year, there are some incredibly important seats open with very close elections across the board. 
Junior Keira Howard tells Brentwood voters how to get to the polls on November third.
Races:
House District 2:

Republican Incumbent Ann Wagner 

Ann Wagner is a long-term representative of district 2 who is running on a conservative platform, advocating for the protection of the second amendment,  stronger immigration regulation, and the overturning of Roe V. Wade. 

Democrat Jill Schupp

Jill Schupp is a member of the Missouri Senate representing the 24th district. Schupp is running on a liberal platform advocating for improving public education, worker's rights and economic growth. 

Gubernatorial race:

Republican Incumbent Mike Parson

Mike Parson is the current governor of Missouri running on a conservative platform of improving infrastructure within Missouri, banning abortion access and aiding farmers in rural Missouri. 

Democrat Nicole Galloway

Nicole Galloway is currently the State auditor for Missouri. She is a liberal running on a platform of revitalizing poor black and rural communities along with expanding access to healthcare for all Missourians.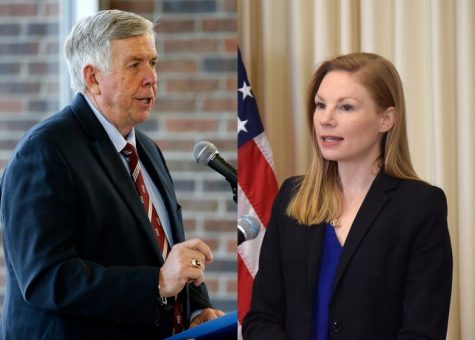 Lieutenant Governor:

Republican Incumbent Mike Kehoe

Mike Kehoe is a conservative running on the same platform as Parson.

Democrat Alissa Canady

Alissa Canady is a former prosecuting attorney; she is a liberal running on a platform of combating city violence and promoting educational and economic growth. 

Attorney General:

Republican Incumbent Eric Schmitt

Eric Schmitt is a conservative who is running on a platform of combating violent crime and addressing the opioid crisis in Missouri cities. 

Democrat Richard Finneran

Richard Finneran is a liberal former federal attorney running on a platform of improving the justice system, protecting health care, and fighting fraud. 

Secretary of State (Missouri):

Republican Incumbent Jay Ashcroft 

Jay Ashcroft is a conservative running on economic growth and saving taxpayers money. 

Democrat Yinka Faleti

Yinka Faleti is a liberal running on protecting Missourians from voter suppression and economic growth. 

Missouri Treasurer:

Republican Incumbent Scott Fitzpatrick

Scott Fitzpatrick is a conservative running on a platform of returning as much money as possible to the taxpayers and protecting Missouri's children. 

Democrat Vicki Englund

Vicki Englund is a liberal running on a platform of post-Covid economic recovery, and protection of healthcare. 

Missouri Supreme Court:

Non-partisan Incumbent Patricia Breckenridge

Missouri House district 83:

Democrat Jo Doll: 

Jo Doll is a liberal running on the expansion of healthcare, education and firearm regulations. 

Libertarian Andrew Bolin

Andrew Bolin is a libertarian running on a platform of constitutional expansion. 

Missouri Court of Appeals:

Incumbent Kurt S. Odenwald

Missouri Court of Appeals:

Incumbent Robin Ransom Vannoy
Not only Are there many hotly contested races this election, but there are also multiple landmark state amendments and local issues that could go into effect if passed. Amendments to the state constitution and city-wide propositions have enormous impacts on the everyday lives of Missouri residents.
Issues: 
Missouri amendment 1:

State Executive Term Limits:

This amendment, if passed, will impose a two-term limit on all statewide elected officials including the Governor, Treasurer, Lt. Governor, Secretary of State, Auditor, and the Attorney General. This limit currently only applies to the Governor and Lt. Governor. 

Missouri amendment 3: Repeal of clean Missouri and lobbying regulations:

If passed, this amendment will change the redistricting process so legislators can more efficiently suppress voters, and reduce the campaign contributions that lobbyists can make to $100.

Brentwood Proposition 1: City-wide tax on out of state purchases.

If passed, this proposition will impose a city-wide tax on any out of state purchases greater than $2,000 equal to the already existing sales tax in Brentwood. Supporters say that this will encourage revenue for local businesses and generate $295,000 to $385,000 for city services. 
While to many, the act of voting can seem daunting at first, it inevitably pays off to be able to have a say in how your local community functions. With what many have called one of the most important elections of this century, it is likely that young voters will have a large say in the shape of the U.S. to come from D.C. to here in Brentwood. For more information on the presidential election, go here.