What's Poppin'? DONDA vs CLB
Welcome back to the reboot of What's Poppin' (or not), the column where we take hard opinions on your favorite movies, games, TV shows, and books, and decide whether it's popping or not.
Since Finn Schuh has graduated, I am your new host, Haylie Minshall, along with other staff from The Nest popping in now and then. I'm super excited about this continuation.
Let's get right into it; the big burning question everyone seems to be arguing over: Donda or CLB?
If you're not familiar with these things, let me get you up to speed: The music industry was blessed with two huge album drops recently. Released first was Donda by Kanye West. This album, in my opinion, was insanely good, but I'm just a Kanye fan. Shortly after, Drake's album Certified Lover Boy (CLB) was released. 
There's a lot of controversy between the two albums because there has been beef between Kanye and Drake since 2009. I'm not even going to try and tell you the entire timeline of the drama but let's just say Twitter is a harsh place. It's been a back-and-forth battle for a long time now, from recording songs with each other just to cut them from the track entirely to Kanye releasing Drake's home address. On top of that, both Kanye and Drake attack each other in their own verses in songs. This drama caused a lot of people to take sides when it comes to these two albums. My question is, why can't I like both?  
Let me give you some background on the Kanye album, Donda's original release date was July 23rd, 2021. However, it's not off-trend for Kanye to be late to his release date. Donda was eventually released on Sunday, August 29th. Kanye held several listening parties where he filled the Mercedes Benz Stadium with fans hoping for a release. These events were also live-streamed; he did everything in the stadium. From dancing, working on the album, and even sleeping. You got to see
the album come together, and you also got to see the process Kanye went through to put the finishing touches on the album.
Kanye went through a little bit of what you could call… a mental breakdown. He ran for president and even almost got a divorce. Kanye had many public appearances during this time. His actions led many many people to ask, "is Kanye okay?.. Like really," Of course people's mental health struggles shouldn't be taken lightly, BUT I think that this helped him to be more creative with his writing and overall led to an amazing album.
These are my favorites, but I did enjoy the whole album. I really like Kanye's style and vibe here; you get a lot of musical aspects as well as rap and sound. I love the way the whole album makes me feel, and if I had to pick a color to describe this album, I would pick light blue  songs like Hurricane, 24, and New Again were orange. I thought No Child Left Behind, Jail, and Ok Ok were green. I would also describe Tell the Vision, Off the Grid, and God-Breathed as a darker purple, so altogether, my color is light blue. 10/10 album, high energy, bars, and a good listen all around.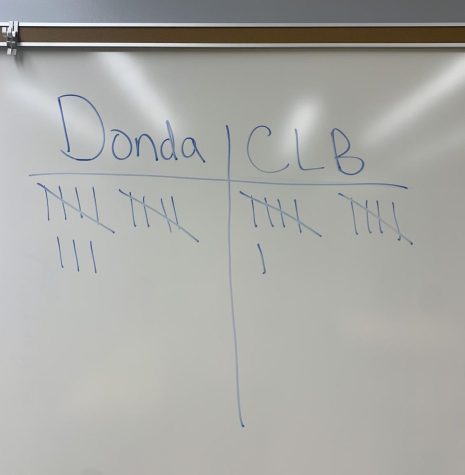 Certified lover boy (CLB) by Drake came out right on time. When the Drake album was announced, it immediately caused the internet to almost divide between which album is going to be the better of the two. It became a huge thing, especially on Tik Tok, where people were either Drake or Kanye fans. There was almost no middle ground. I was so excited for both albums to come out because I just love music, and since there was so much controversy over it, I was excited to form my own opinion. Speaking of opinions,
This album was pretty good; I was never the biggest Drake fan just because I never really knew what songs to listen to. I did really like this album, though. The color I would pick for this album is purple. I would definitely say purple because of how the vibe of the whole album is—a perfect balance of hype and relaxation. Very good vibes, and I enjoyed this album. 7/10
To sum it all up, I liked the Kanye album more. Drake's album was definitely good, but Kanye just takes the cake here. It's also hard to completely compare these two albums because they're both created in very different styles. Kanye led towards a more gospel rap album, and Drake stuck with his more normal style. However, I think both artists heavily utilized their features to really bring their album to a whole.
Check back soon for a detailed review on each song in both albums and my first impressions of everything. Thanks for reading!