With her recent international fame over the last couple of years, you have certainly heard the name Olivia Rodrigo before. First entering the public eye as a Disney Channel actress in the 2010s, Rodrigo has been singing for her entire life, but she didn't start releasing music until 2021. Her first single, "Driver's License", broke several records, including being one of seven singles in all of Hot 100's history to stay at #1 for eight weeks in a row. She is also the first female artist to have three solo songs on a single album reach a billion streams on Spotify. Her debut album, "SOUR", was released in May of 2021 and became a huge hit. Fans have been waiting for nearly two years to see when a second album would drop.
Announced in June of this year, GUTS has a total of 12 new and long-awaited songs that were released at midnight on September 8th, 2023. As someone who's been an Olivia Rodrigo fan since her High School Musical: The Musical: The Series days, I was super excited to give GUTS a listen. Because I get way too influenced by other people's opinions, I decided to stay up to listen to the album the second it came out so I could jot down my initial reactions before I heard what anyone else had to say about it. So, I present to you my genuine reactions, rankings, and review of Miss Rodrigo's stellar second album: GUTS.
all-american b*****
Based on the title of this track, I was expecting this album opener to start off with a grunge-rock feel, because after the release of "bad idea right?" and "vampire," I was expecting every song on GUTS to head in that direction. But instead, I was met with the softer sound of a guitar and gorgeous vocals. I was pleasantly surprised. It started as a beautiful track with lyrics that instantly hit me right in the heart. I am the kind of person who immediately falls in love with songs that have great lyrics; because they're poetry with music attached, and that is what this song is. But about 53 seconds in, the sound changes. The drums kick up and this song transforms into something that feels more…angsty. Somehow, it fits super well. My only complaint is it feels like this song should be angrier, but it just doesn't sound like it. A very strong opening track. 7.75/10.
bad idea right?
This song was one of the two singles Rodrigo released a few weeks before GUTS dropped. Originally, I wasn't sure how to feel about this song. It had a different sound and feeling compared to her previous songs, and mainly I wasn't sure about how the verses sounded more spoken than sung. After having this song on repeat for almost a month, I can now say with confidence that I love it. This song is so catchy. I constantly wake up with it on a loop in my head, and I can definitely relate to her lyrics about ending up doing something that's probably a bad idea. "Now I'm gettin' in the car, wreckin' all my plans, I know I should stop….but I can't," is certainly one of my favorite parts of this pop-rock song. Plus the guitar solo is super cool. "bad idea right?" has grown on me immensely. I'll give this one a 9/10.
vampire
This song was released before GUTS was even announced, so I've been listening to it non-stop since the middle of summer! I was in love with this song on my first listen. It felt emotional and angsty and the lyrics hit you in all the right spots. Rodrigo has such amazing vocals in this song – and you can hear the pain in her voice as she sings about a past lover who wronged her. "I used to think I was smart / But you made me look so naive / The way you sold me for parts / As you sunk your teeth into me," she sings in the pre-chorus of this piano rock song. If you know me, you know that I am a sucker for a good bridge, and Miss Olivia hit the nail on the head with this one. "Vampire" is one of my favorite songs of hers and the bridge is just the cherry on top. This one's a banger. 10/10.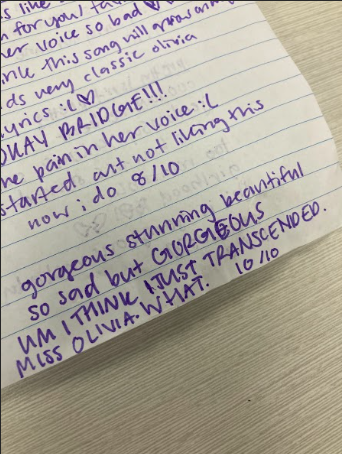 lacy
When the titles of the GUTS songs were released, I had a feeling that "lacy" was going to be one of my favorites. I don't know why I felt this way, but I had a hunch. That turned out to be correct. This song started out with a beautiful sound and vocals with lower notes. What I like about this song is that Olivia is singing so sweetly, but the lyrics are full of conflicting emotions and jealousy. It's a very teenage girl song, and as a teenage girl, I adore it. Also, something about Rodrigo's vocals in this song sounds different than how she usually sings, and it's fantastic. When it got to the bridge of the song, I think I literally transcended into heaven. I'm not exaggerating. There's no lyrics, just vocals, and it sounds like a literal chorus of angels. The track ended with Olivia singing a lot more quietly, like a whisper, and it was the perfect finish. This song is definitely in my top 3 on this album. It was so gorgeous. 11/10.
ballad of a homeschooled girl
This song started with drums and guitars right off the bat, a total change after I had just finished listening to the soft and sweet "lacy". My initial reaction was that it sounded very well put-together. I have no idea how Olivia Rodrigo can manage to sound very grunge-rock and also sing super sweetly and prettily at the same time. I love the lyrics, too. She talks a lot about her insecurities in this song, which is very relatable to a ton of people, including myself. "I broke a glass, I tripped and fell / I told secrets I shouldn't tell / I stumbled over all my words / I made it weird, I made it worse," she admitted in the chorus. I can tell this is a song I will know all the lyrics to by the end of the week. 8/10.
making the bed
Another quick change from the song previous – "making the bed" is a slower and sadder song. She sounds more wistful in this song. I really love the melody of this track – it's very flowy and dreamy. Listening to it kind of feels like you're falling – that's the only way I can explain it. Other than the stunning instrumentals, the lyrics are a little too real. Like I previously mentioned, I have a weak spot for relatable lyrics, so I know I'm going to really love this song as I keep listening to it. Rodrigo's voice is so good at relaying emotions – you can hear the regret and sadness in her voice so much you can almost feel it yourself. This one is a masterpiece. The only reason I'm not giving it a 10/10 is that everything about it sounds a little too similar to a few of her older songs. 9/10.
logical
Continuing the slow-song sequence, this song starts out with soft piano and gut-wrenching lyrics. It sounds like a very classic Olivia song. Her voice, as always, is gorgeous. I'm just wondering who hurt her because she sounds like she's on the verge of tears in this song, and it breaks my heart a little bit. It's a beautifully written track, very poetic, and this is definitely a song I will end up crying to at some point. 10/10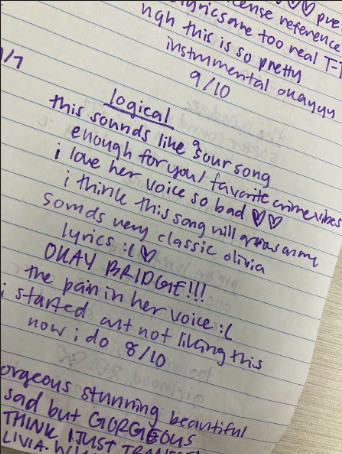 get him back!
This track starts with a male voice counting, "1, 2, 3…wait, is this the song with the drums?" And then the drums kick off into a super fun pop-punk track, while she sings about a guy that she can't decide if she wants to get back with him or get him back for all the things he did to her. This was immediately one of my favorite songs. It will for sure be stuck in my head for the next several weeks. This has a little more of a summery vibe, and I love it. "I wanna break his heart then be the one to stitch it up," she sings over a catchy mix of guitars and drums. Definitely one of the best. 10/10.
love is embarrassing
Continuing the catchy, summery rock of the previous track, this song slows down just a bit but is just as much of a bop. This song is ridden with a little more self-loathing and has so much pent-up rage. It was nothing super special, but very solid. 8/10.
the grudge
Slowing down even more, this track opens with sad piano and even more tearful lyrics. This song is so full of hurt, and I nearly cried hearing it the first time. "It takes strength to forgive, but I don't feel strong," she sings softly. "Hurt people hurt people, and we both drew blood but man those cuts were never equal." I will be adding it to my sob songs playlist. 10/10.
pretty isn't pretty
The title and subject of this song are reminiscent of a song from her previous album, "jealousy jealousy" where she sings about insecurities stemming from her physical appearance. She sings about body issues and eating disorders and how "pretty isn't pretty enough" in a distinctly feminine way, and it's a punch in the guts (no pun intended!). This is a very teenage girl anthem, in my opinion. Plus, the instrumentals sound amazing. 10/10.
teenage dream
Finally, Olivia finishes out the album with a wistful song about girlhood. "When am I gonna stop being wise beyond my years and just start being wise? When am I gonna stop being a pretty young thing to guys?," she questions in this emotional ballad. The bridge sounded absolutely angelic. "They all say that it gets better, it gets better but what if I don't?" she cries repeatedly. To put the icing on the cake, this track finishes with the faint laughter of Olivia as a young girl (she confirmed that the sound was taken from an old home video!), which is the perfect ending to the album. 9/10
I really, really enjoyed listening to this album. While reviewing new albums, I have never ranked so many songs a perfect 10/10 as I did in GUTS. It was witty, angry, painful, passionate, and a beautifully written masterpiece. Although I loved her first album, SOUR, I love GUTS about ten times more. The fact that Olivia Rodrigo is only twenty years old and already has tons of record-breaking, award-winning music is wildly impressive. I am eagerly looking forward to what she'll accomplish in the future. Everyone should give GUTS a listen (or three).