My Take: The impact of Performing Arts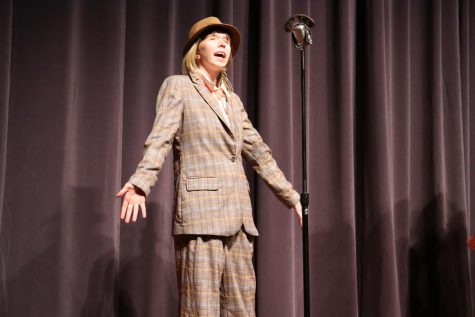 When I was younger, I was always drawn to the stage. Watching actors perform with such passion and energy, like in the show Starlight Express filled me with excitement and a sense of wonder that I couldn't find anywhere else in the world. It was as if the stage was a portal to a different world, where anything was possible, and the limits of imagination were endless.
As I got older, I decided to pursue my love of theater and performing arts, and signed up for my first school theater show, The Wizard of Oz, to see if it was something I really wanted to do. From the first rehearsal, I knew that I found my true passion in life. The feeling of being on stage, connecting with my fellow performers and bringing a story to life for an audience was unlike anything else I had ever experienced, even if I wasn't a major part of it. It was a rush of adrenaline, a high of emotions that I craved over and over again. I felt like I was truly at home, and I was making more and more friends with similar interests.
Over time, I began to realize the true impact that theater and performing arts had on my life. It not only gave me a creative outlet, but also taught me important life lessons such as teamwork, dedication, and resilience. It also helped me overcome my shyness and build confidence in public speaking, which has been valuable in both my personal and now-professional life. On top of that, it taught me how to sight read. Sight-reading is the ability to say things out loud as you read them, which is a very valuable skill for public speaking and presentations. 
In summary, I have to say that the power of theater and performing arts cannot be overstated. Not only did it change my life for the better, but I truly believe that it can do the same for anyone who is willing to give it a chance.
The key to unlocking the full potential of the performing arts is to keep an open mind and an open heart. Whether you're a performer, an artist, a technician, or a member of the audience, there is something to learn and appreciate in every performance. By putting yourself out there and trying new things, you may discover a hidden talent or a new passion that you never knew you had.
If you're feeling hesitant or unsure, I encourage you to take the first step and try something new. Whether it's joining a local theater group, taking an acting class, or simply attending a performance that catches your eye, I guarantee that you will be amazed at what you can accomplish; It's a journey worth taking.
Finally, I would like to leave you with this important message: Remember that the greatest gift we can give to others is the gift of ourselves. When we pour our hearts and souls into our performances, we have the unique opportunity to touch the hearts and minds of others in ways that few other things can. By giving wholeheartedly, we can help bring a little more beauty and magic into the world, and that is a privilege worth embracing.
So take that first step, my friend. Dare to be brave, to be vulnerable, and to share your talent with the world. I promise you that you'll never regret it.