Art-ish: Googly Eye Napkin Holder
The internet is full of arts and crafts: some simple, some complex, some asinine. You've probably seen-or at least heard of-the bizarre "life hacks" shown daily by Youtube channels like 5 Minute Crafts, things no one would ever actually try. In our new column, Art-ish, I'll attempt them, and see if they're actually possible or worthwhile.
In this installment, I made googly eye napkin holders from this article, "20 Fun Halloween Crafts for Adults." The materials I used are hot glue, a hot glue gun, googly eyes, and felt. I tried wearing work gloves so as not to burn myself, but they ultimately only made the job more difficult.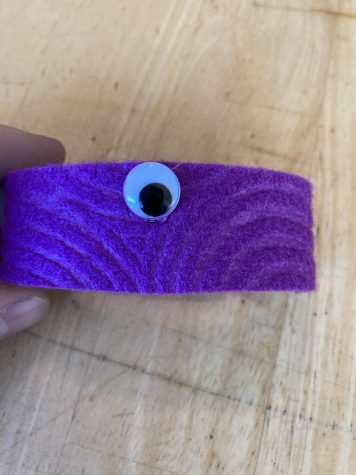 Overall, the napkin holder I made was perfectly functional. The strip of felt I used was roughly 1' by 8', and was large enough to fit my napkin in it. The googly eyes on the outside were relatively easy to apply and didn't fall off. It's a solid craft, and the holder looked pretty good once I pulled the excess hot glue off of it. 
I don't really see why someone would make this, though. It's described as something for a Halloween-themed dinner party, but the way I had to fold the napkin to get it in there made it hard to use as a napkin. Overall, it seems easier and less painful to just not do it. However, I don't think that's a valid criticism of the project. There are plenty of things I do that aren't the most efficient, and I get the feeling most crafts I cover here will be the same, regardless of functionality. My other main issue is that it's easy to get hot glue on your hands and burn yourself, so be careful.
To note: Mrs. Cohen, our Journalism teacher, has loved wearing the napkin ring as a bracelet.