5 places to take photos in St. Louis
Calling all photographers! If you live in St. Louis and want to take photos but don't know where, I can help you out. Overall it's a good hot spot to take photos — from the hidden train tracks to the stunning Gateway Arch. So here is my list of the top 5 places! 
1. Forest Park
Forest Park is a beautiful park that is around 1,300 acres. Did you know that it's one of the largest urban parks in the United States? It's one of my favorite places to hang out, and I know it's many others as well. It has the most beautiful sunsets and forest backgrounds, along with a stunning waterfall that's amazing for photos. 
2. The Delmar Loop
The Loop has cool painted backgrounds and walls that are absolutely perfect for photoshoots. One of my favorites is right next to Vintage Vinyl; it is of Chuck Berry showcasing him and was painted right before his death in 2017. After he passed it was turned into a memorial. The Loop is also a good place for walking around and hanging out with friends since it has 8 blocks of cool and one-of-a-kind restaurants, art galleries, live music, cafes, and the St. Louis walk of fame that's absolutely perfect to take photos on.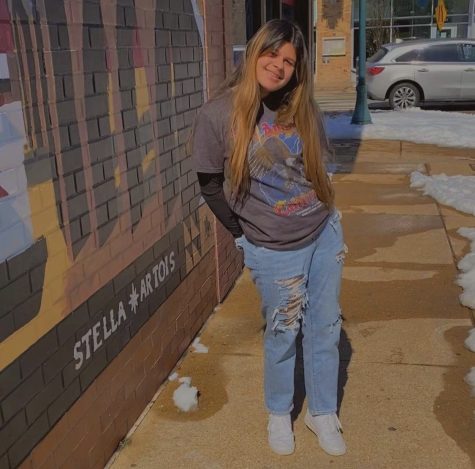 3. Train Tracks
My third place on my list is the train tracks; they are located in Brentwood Park. You just have to remember to stay safe. It's a great spot to just hang out as well since the park has 13.5 acres of land and has two softball fields, a soccer field, a playground, and more! 
4. The Arch
The fourth place is the Gateway Arch National Park; it is located in downtown St. Louis. It's a fun place to hang out and is a big place for teens to take photos. The arch is around 630 feet tall and the area is around 90.9 acres. Fun fact, did you know that presidents are forbidden from going to the top of the arch due to security concerns? Anyways the area, in general, is beautiful and has amazing sunsets and views. 
5. Memorial Park
My last but definitely not least place to take photos is Memorial Park right here in Brentwood! It has flowing water and a bridge. It is also absolutely beautiful in the fall. It's a good place to hang out and walk around with friends since it has 2 playgrounds, an in-line skating rink, and beautiful nature hiking trails that are great for photos.