Meet Ms. Simon!
Brentwood High School has gotten a handful of new teachers this year, one new teacher being Ms. Simon, who teaches math. Although I do not have Ms.Simon as a teacher, I have heard many good things about her through my connections. Since graduating college, Ms. Simon has always worked as a teacher. "My first nine years at Afton High School, then two years at MRH (Maplewood-Richmond Heights High School). And then ten years at Hazelwood West," she said. 
With math being a core subject, some might assume that she always knew she was drawn to teaching because she liked math, but it was actually the people component. "I always liked working with people. I thought about teaching art; I remember wanting to be an art teacher when I was a little girl," Simon said. "The math part of it didn't come until high school. I had some awesome high school math teachers, one of which is Will Schuering's aunt, she was my teacher during my freshman and senior year, and she kinda was the main reason I'm here."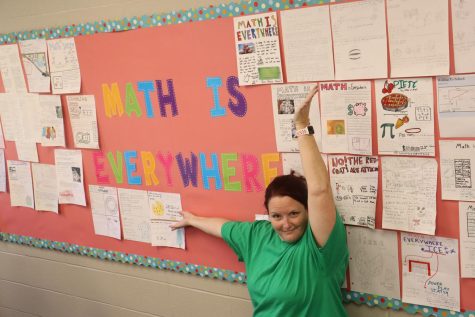 Based on our observations at The Nest, when new teachers come to Brentwood, they tend to like it, and Ms. Simon is no exception. "I absolutely love it here," she said. "It is refreshing to work with kids that actually want to learn, that you can give a challenge prompt to do and will be like, hey, try something, and they don't complain. They're like, 'Okay, let's start working together,' and you hear the buzz of ideas being thrown around. It's been a long time since I've had that. So yeah, this has been a fantastic place to work." 
One thing you might not know about Ms. Simon is that Luca Gould is her younger cousin. When she got this job, she wasn't concerned about teaching a relative for she's taught friends and family before, but she was worried for Luca. With that in mind, she asked Luca's mom if it was okay, and now here we are. "It's funny because he doesn't know what to call me. I hear a hey, and I'm like yeah, Luca. I can't call you Ms.Simon. I said you don't have to. It's all right."
Even though Ms. Simon has never worked outside of the education field in her adult life, everyone at least once in their life wanted to be a superhero, including her. Ms. Simon remembers wanting to be able to fly/teleport because she wouldn't have to be in any traffic when going on vacation or anywhere, or if she wanted to, in a snap of a finger, she could be in the Bahamas sipping on a refreshing drink. Even though she still hasn't received any of these superpowers, we here at The Nest, feel that Ms. Simon along with the rest of the staff are already superheroes. 
And on that note, Ms. Simon, thank you for coming to Brentwood, and we hope you enjoy the rest of your teaching career.