Double Trouble: Nija Hayes and Kensi Curd excel at the state track meet
Tenth grader Nija Hayes and 9th grader Kensington Curd truly showed the meaning of girl power last weekend as the track team's only state qualifiers. Hayes qualified in the triple jump — her PR for the event is a staggering 34'4.5 feet. Curd qualified in both the 1600 and 3200. Before state, her PR times were 5:35 for the 1600 and 12:21 for the 3200.
This year's MSHSAA Class 2 Track and Field Championships was held on Saturday, May 20th, at Adkins Stadium in Jefferson City. While Curd had already competed in state once this year for cross country, this was both girls first time competing in state for track.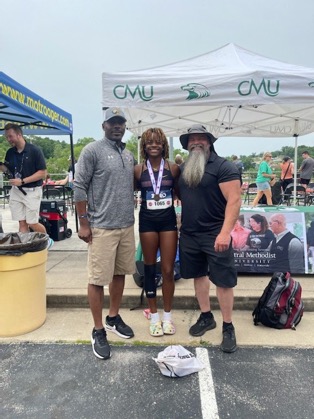 "My first state track meet was fun, but I was nervous because I didn't have any clue what I was doing, and I was in my head a lot, but after I got out of my head I did pretty good," said Hayes.
"Pretty good" is a bit of an understatement though. Hayes won 6th place in the triple jump which earned her a medal and place on the podium. Her farther jump was 33'10.
"Going into districts she was seeded 10th," said Coach Long. "She was the last qualifier for finals at districts, as she was in 9th after prelims. Then, she hit 3 consecutive PRs by 4 feet!  That's unheard of! It all clicked, and at sectionals, she increased her PR.  At state, she showed us that this is simply the new norm as she medaled!  As strange as this might sound, I told her all year that a performance like that was in her, we just had to figure out a way to get it out of her.  Well, she figured it out!"
What makes Hayes tremendous gains even crazier is the fact that she had never even heard of the triple jump before March.
Freshman Kensington Curd also competed terrifically, cutting down her 1600 time by 11 seconds with a finish of 5:24.94 and winning a 7th place medal. Curd played both soccer and ran track this season with soccer practices and games taking priority. In soccer she also had a stunning season, scoring more than 50 goals during regular season play.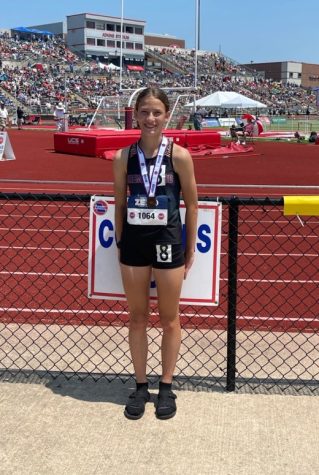 As for the actual state race, even though her time ended up being a PR, the actual race was a bit brutal. At the start of the 1600, another runner tripped Curd and another girl so that the race had to be restarted.
"I was on the track around the first curve. I could see that it was her on the ground," recalled Coach Long. "Fortunately, the officials restarted the race. When Kensi came around the first turn she looked angry. At that moment, even though it was a very fast field with excellent runners, I knew she would medal!"
Curd also competed in the 3200 and finished 9th. Although only the top 8 medaled, Curd ran a great race, cutting down on her time, but for Curd, she saw this season as a learning experience. "I'm going to do a lot better next year," she said. To achieve this goal she will be doing a summer program for track.
Another reason this experience was fun for both of the girls was due to the hotel, which they found really nice and had a good breakfast. Congratulations athletes!