A Glimpse Under the Sea
Brentwood High's Student Council has had new challenges when setting up for the homecoming dance this year, but StuCo president Madison Lawrence is staying optimistic. She said that StuCo will be hosting the dance at the BSD Conference Center. This will be the first time the homecoming dance has been held off-campus. Construction has been a considerable obstacle for our school, and there aren't any exceptions made for the homecoming team. 
The hardest part of setting up the dance was finding the location. They want to make it "really cool and targeted towards a specific age group." It will be quite a risky endeavor, as the school is only allowing one trip to deliver supplies. Lawrence says the even more daunting task, however, is setting up the pep assembly preceding the dance. Construction is presenting a huge obstacle for StuCo, but the group has a lot of fantastic ideas for it.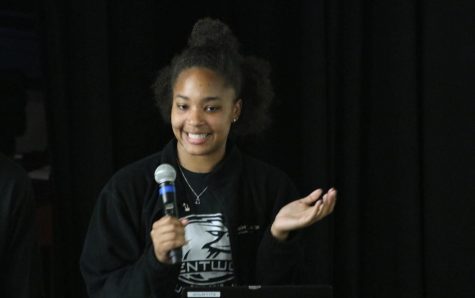 The StuCo president then went into further detail about Saturday's upcoming dance. They plan to decorate the Conference Center with fish bowls, jellyfish, foam, blue and green streamers, and a lot of blue lights to make the room look as "mermaidy as possible." Conference Center has a lot more space, but they didn't realize how much space. StuCo is reportedly going to have to move all of the furniture around to make it smaller, and it will take a lot of work to make the music sound good in the larger space.
Lawrence says she's really excited about the way the dance will turn out and hopes it'll be a super fun dance that everyone will like. StuCo feels everyone will remember this homecoming as one unlike any thrown by Brentwood students before, and we hope to 'sea' you there.
Leave a Comment