Dive right in: Homecoming Happenings
A look inside Brentwood High's 'wavy' Homecoming event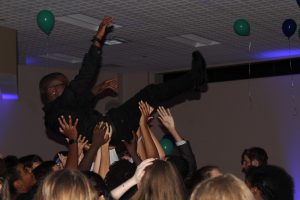 The theme for Hoco 2019 was Under the Sea, and students everywhere took that theme to heart. From surfing the crowds to flowy dance moves, the underwater vibe was definitely felt. 
The line filed out the purple Conference Center awning on Saturday night, everyone eager to get inside. The Juniors, having exclusive access, didn't have to wait and were able to skip ahead with VIP permission. Special recognition to the Juniors who earned it from participating the most in Spirit Week. Tables surrounded the dance floor with blue adornments, twinkle lights, glow sticks, and all kinds of balloons. The DJ was stationed at the front of the room and mixed all the popular songs of today and the past. Snacks of all kinds were provided in the connecting hallway, like crackers, candy, Gatorade, water, and soda.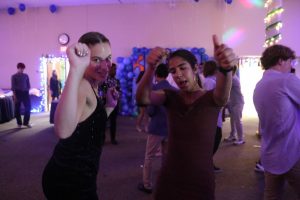 That Gatorade was needed more than expected as the temperatures began to rise from all of the bopping bodies. To add to the heat, the air conditioning was off and had been for the weekend. Students stopped for rest in the hallway to rehydrate and refuel for another round of the "Cha Cha Slide." Belting and jumping around, students went nuts for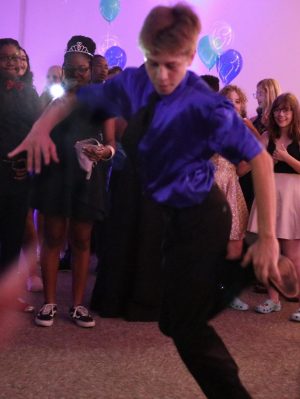 Lizzo's "Truth Hurts," singing every word. Naturally, dance battles also occurred between pumped up high-schoolers like Kaz Pulliam and Joshua Kelley. As Kelley said, he "had the time of his life," and loved "seeing people completely let go of the fear of embarrassment and absolutely tear up the dance floor in their own way." Later, the energy continued to be very high, as people began a fun mosh pit full of laughs.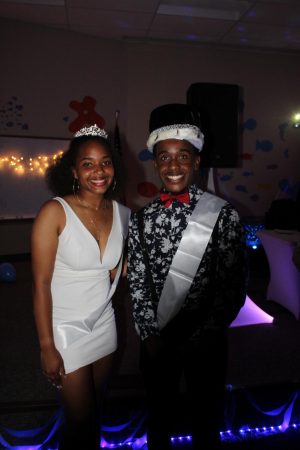 Coronation soon approached as each homecoming court nominee walked the floor, receiving lots of whoops and claps. They included Jazzy Herrera, John Clay, JD Allen, Nick Phillips, Hayden Bender, Cameron Bethea, Kya Hawthorne, Jordan Bradley, Lydia Strieker, Cody Hughes, Bridget Fitzgerald, Patrick Eisentraut, Molly Callihan, Sofia Flores, Jack Otten, and BB Elkin. The King and Queen, Madison Lawrence and Reginald Jeffrey, each got their crown and a moment in the spotlight. Reginald had lots of fun and said, "it was nice seeing a lot of people with smiles and enjoying themselves." Both the King and Queen said it was a night to remember and  Madison agreed, even "despite no air conditioning." Immediately following the crowning was a round of the "Dougie" and lots more dancing.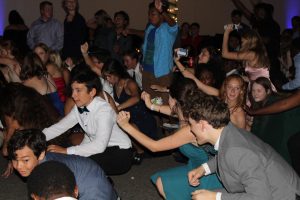 As the night came to an end, everyone began to head out with sweat-streaked faces and clothes a shade darker. Everyone really got down with the music and had a great time. As many students have agreed, this homecoming was the best Brentwood has thrown to date and will be remembered for years to come. Special thanks to our Student Council members and leaders who put on a 'splashing' fall bash!
Leave a Comment
About the Contributor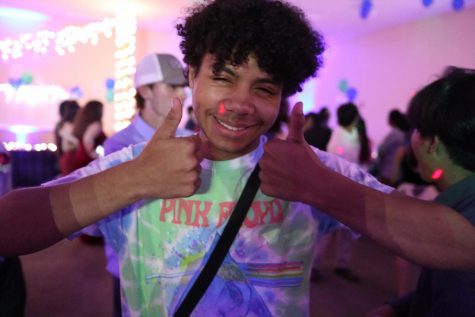 Chaim Duffe-Holmes, Photographer
Chaim Duffe-Holmes is a Junior at Brentwood and this is his first year being apart of the Journalism class. He loves taking pictures or anything that has...