Brentwood Celebrates Black History
February is designated as Black History Month, a month dedicated to celebrating Black History. Many African American men and women have made remarkable contributions to America and the world as a whole in different fields such as science, politics, law, sports, the arts, entertainment, and many others. There are many prominent African American figures. From Martin Luther King Jr., a notable civil rights leader, to Harriet Tubman, a leading abolitionist, there are a lot of renowned African American leaders. In honor of these famous and influential individuals, Brentwood High School is executing a number of celebrations to commemorate them. 
A group of students, along with the help of Mr. Swearngin, are making a Black History video. Their goal is to celebrate and commemorate the important strides these historic figures made. Mr. Swearngin advised the students making the video to decide how they will celebrate Black History Month by talking with their friends, grandparents, and anyone else. He gave them a list of ideas from the NAACP website to get them started, ranging from donating to an African American led organization to cooking a soul food meal. Whichever way they choose to celebrate, each individual student will make a short video of their celebration. The final goal will be to put together the video clips in a collective movie for the Brentwood School District Black History Month event on February 27th. Stay tuned for this exciting collage of video celebrations!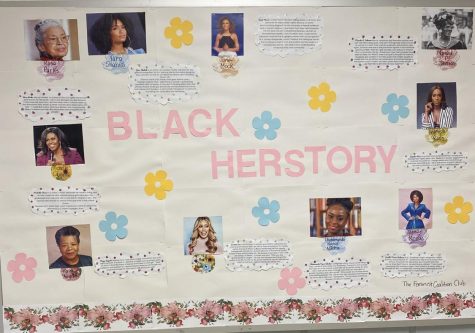 In addition to the video, Feminist Coalition Club is making a mural on the board in the language hall in order to honor powerful black women throughout history. The mural is catchily titled "Black Herstory," highlighting various important black women. Co-President, Edris Roman, had some insight on the mural. "We're doing this because The Feminist Coalition Club isn't only about equal rights for women, but equal rights for everyone, no matter their race, gender, or sexuality," Roman said. She noted that everyone deserves equality and that's a message their club strongly stands by. Roman voiced that the mural is important because African Americans, especially women, have stuck up for what they believe in throughout history. "It is extremely important to never forget that," Roman concluded. The mural is located right between Frau Wall and Senor Garcia's rooms and everyone is encouraged to go check it out!
Lastly, the Brentwood School District is holding a Black History celebration on Thursday, February 27 from 5:30-7:30 p.m. It will be at McGrath Elementary School and there will be many performances, speakers, artwork, concert pieces, and videos to celebrate Black History. It will be a fun, educational, and exciting cultural experience!
Brentwood is celebrating Black History Month in different ways. From videos to murals, students and staff are finding ways to remember and honor figures in Black History. Everyone should be thinking of how this month is impactful for all and lending a hand to show respect and love.
Watch the video to hear about Brentwood's support:
https://www.schooltube.com/media/Black+History+Month+Video/1_ai6xsscn
Leave a Comment