Construction finally comes to an end: Brentwood's new crib
Justine Favazza, Madison Pierce, and Elliot D Wright
After two school years of attending classes in a construction zone, the renovation of Brentwood High school is *nearly* completed.

With a new library, weight room, renovated classrooms, and new meeting spaces, the school is ready, and the students and staff are finally getting to experience it.
But before you read the complete rundown of Brentwood's new amenities, make sure to check out The Nest's own Elliot Wright give a tour of everything you wanted to know about our new crib! This video, posted above, was filmed and created by Justine Favazza.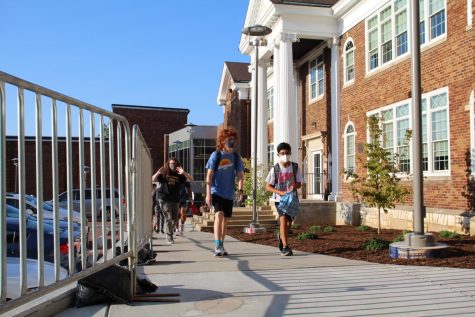 What's new?  
The largest addition to the school came in the form of a new building situated in the space that used to be the courtyard. This new building houses an expanded library and weight room along with a commons area and meeting spaces. 
From May of 2019 until the completion of the new building, the library was temporarily moved into the small gym. The temporary library — otherwise known as the Gymbrary and Basketbrary — proved to be quite a headache for librarian Libby Wilson. This made the new building all the more exciting for her.
"
I think it's pretty great! It was worth the wait; I think they did a fantastic job, especially the new wing. I'm glad I finally have a teaching space.
— Mrs. Wilson
With pandemic restrictions and no weight room, the personal fitness and P.E. classes were relegated to track walks and games of cornhole for the past few years. Now with an all-new space packed with shiny new equipment, the gym classes can return to a more traditional format of activities and workouts.
"There's no comparison. The old weight room was a travesty," said Coach Kuhn. "We are going to expand the use of it in personal fitness as well as throughout the athletics department. If every athletic program doesn't take advantage of the facility, I think they're crazy! We need to take another step as an athletic program across the board, and that is the foundation of any successful athletic program is their strength conditioning."
Issues?

Parking was a frequent issue for both students and teachers during the construction process, but even with a new parking lot near the entrance, parking is still a struggle. Senior Nirmita Vijayalingam said, "There needs to be more parking for students."
Although the new commons space looks great, it's being underutilized since students aren't allowed to eat lunch there. Vice Principal Ayotte says that this space will only be open to students for lunch when we return to a one lunch period system. "We need to have lunch be one lunch period instead of two then, we'd be able to supervise it [the commons]," said Ayotte. 
As we start this year of new beginnings, make sure to come home to The Nest for the latest updates on the Brentwood School District and life in the St. Louis area.