Goodwill hunting … for Homecoming dresses
Why thrifting is better for the environment and the bank account
Homecoming is just around the corner, and you've most likely heard people buzzing. While we know the theme — Barbenheimer! What about the decorations? The music?
And most importantly … what are you wearing to the dance?
As a semi-formal event held at BHS, the Homecoming dance isn't too expensive — usually a ticket runs for about $10. Yet, if you're wanting to buy something new to wear, or get your nails or hair done, or buy new shoes, the cost can start to really add up.
As someone with an impulsive spending issue, I worry about looking good for these events without going broke. Even looking at homecoming and prom dresses online and in the mall – you'll find that they're anywhere from $60 to a whopping $500. For a dress that you're likely to wear just once or twice, that's a steep price, not even counting the cost of hair, nails, shoes, and the corsage (if you plan to bring a date). For me, a 17-year-old who doesn't have a job during the school year, that's a lot to spend on one three-hour dance. Plus, I know I'm going to also want to spend for a prom dress later in the year. It all can start to feel a bit overwhelming and wildly expensive.
If you face the same problem … never fear. I have an alternative option for you. It saves money and takes a little time, but it works. And I would know because last year for prom, I only spent $15 on my dress.
How? Two words: Thrift shopping.
While prom was gearing up last spring, my bank account was running dry, and I had no idea how I was going to find the dress of my dreams without going broke.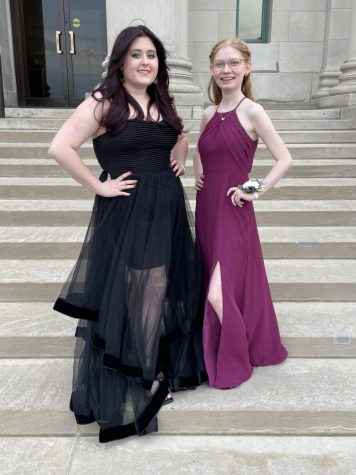 At the time of my financial woes, my mother heard my concerns and proposed an idea: Would I be interested in going thrifting for a dress?
She added that we could resort to the more expensive options if we didn't find anything good. Yet, I was still doubtful. Although I enjoy thrifting for many reasons and have struck gold in the past by finding amazing things at thrift stores, I was skeptical that we would be successful in thrifting a prom dress that I liked and that fit correctly. But my mom, being the thrift shop connoisseur that she is, remained confident, and we started the prom dress shopping journey.
The first place we went to was ReFresh. Located at 1710 S Brentwood Blvd, ReFresh is a local resale boutique that has been here for 13 years and recently reopened after the COVID-19 pandemic. Thanks to the Cinderella Project, it has a second floor dedicated to prom dresses. They had so many colors, styles, and an excellent size range, and I was immediately impressed. A lovely sales assistant showed me where to find the right sizes and olors, and where the fitting rooms were, and even offered to put the dresses I was considering in the fitting room so they would be there to try on when I finished looking around. Although my final prom dress was not from ReFresh, I found a few gorgeous dresses that I got very close to purchasing.
Most dresses at ReFresh are around $20-$40, so if you need a less expensive option but still want a lot of options to choose from, ReFresh is a great place to visit. They are also a non-profit organization that closely works with and benefits the Foster & Adoptive Care Coalition, so if you end up purchasing anything there, the money goes to a great cause! Another bonus: because the business is a non-profit, there are no sales taxes on anything you purchase. The only downside is that they have a no-return policy.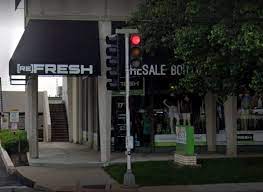 I wasn't the only Brentwood student who browsed around ReFresh – in fact, several Brentwood prom-goers stated they had purchased dresses from there, including 2023 graduate Ash DeVaughan. "I love ReFresh because they're usually very cheap, and I love spending money there because I know the profit goes to kids in foster care and I think it's a very good organization to support. I think it's wonderful what they do," she said. "I had a good experience there because it's easy to find what you're looking for."
The second place we visited was – of course – Goodwill. My mom and I (or, actually, just my mom) visited multiple Goodwill stores on the hunt for the perfect dress. The great thing about Goodwill is that if you buy something but end up changing your mind about it, you can always return it if you have the receipt or tag. So we found two perfect contenders at a Goodwill (each for just $15!) and brought them home. I tried both on and liked them both so much. It was a very tough decision, but I ended up going with a dark purple dress that tied in the back.
But this is the magic of Goodwill. My mom said she had been simply browsing the store – as she does frequently – a few days before prom and came across another prom dress. She knew I'd already picked one, but she decided to buy the dress she found, saying she felt I might like the new one better. This is another great benefit: thrift shopping for prom at a much-reduced price means lots more options to buy, take home, try on, and mull over.
When she brought the dress home, I was already set on the first dress. But I tried on the new dress out of curiosity – and I don't believe in love at first sight, but this was love at first sight.
For a mere $14.99, my mom had found a beautiful raspberry-colored dress in peak condition. It came with pockets (the best part) and looked like it had literally never been worn before. It was gorgeous. It fit perfectly (which is a rarity). My mother had proved me wrong.
We had found not one, not two, but three options for me to choose from – and I had found them all not for hundreds of dollars at the mall but for the same price as 40 chicken nuggets at McDonald's. I don't know what that says about McDonald's, but it was a pretty good deal for me. Goodwill is a godsend. Plus, I could easily return the options I did not pick to Goodwill for someone else to find.
Everyone has different priorities and opinions when it comes to events like prom and homecoming. If you went to the mall or a bridal store to find the perfect dress for a larger price, that's also great – it's really easy to find the dress you're envisioning right away in that setting.
But for those of you who would rather save money, thrifting is such a great option. In addition to being more environmentally friendly, it can be much cheaper.
Like I said, I was skeptical we would find a good dress at first – but I was proved wrong. It is absolutely possible to find a dress that fits and is in peak condition at a thrift store. Thrifting is so easy; I already have my homecoming dress ready to go for October 7th!
And if you miss your chance this time to do some thrifting for homecoming, never fear. It still stands as an inexpensive option for prom, graduation, graduation parties, prom, senior award ceremonies, and any other occasion, really. It's surprisingly easy to avoid the price tags that will stress you out. I will admit it takes some work and looking – but it's so worth it in the end.
Leave a Comment
About the Contributor
Haven White, Staff Reporter
Haven White is a senior at BHS. She is an extreme theater kid and wants to become a teacher in the future. She loves traveling, listening to music, writing...