Class of 2023 Senior Night Recap & Results
On Monday, May 8th, Brentwood High School hosted Senior Night, an event that the senior class looks forward to every year. It's a night when the Brentwood community gathers in celebration to acknowledge the outstanding achievements of our graduating senior class. This event includes recognizing students with awards for excelling in academics, the arts, extracurriculars, athletics, leadership, community service, and more. The event was split into three segments, the first commemorating Awards and Recognitions earned by this year's seniors, the second celebrating recipients of State and Local Scholarships, and the third in which Brentwood Staff presented Departmental Awards to seniors who excelled in a given field.
Some of the state local scholarships did not come as a surprise to students such as the A+ Scholarship that awards students with two free years of community college. "Some of the things you needed to maintain were good attendance and a minimum GPA of 2.5. We also needed 50 hours of community service," said Camile Beck, one of the A+ Scholarship Award recipients. "I'm definitely planning on using the scholarship to start college with," added Beck.
Other awards that students had to apply for came as more of a surprise at the awards night such as the Brentwood Boosters Scholarship Program that entailed five categories of scholarships — Leadership, Service, Letterman, Academic and Eagle — and was awarded to one senior for each category.
"I was very excited, I didn't actually hear my name when they called it," said Katherine Trostel who won the Boosters Leadership Scholarship which entailed $500 that can be used for anything. In order to apply for the Boosters scholarship, applicants had to write an essay, a resume and get two letters of recommendation.
Antoinette Willis also was very surprised to win the Letterman Award for the Boosters Scholarship along with the Pay It Forward Scholarship. As far as how she wants to spend some of her scholarship money, Willis said, "I have to buy a few things for my class at Abbott EMS."
As for Brentwood Department Awards awarded to one or a few students by staff from each department, some students were surprised while others were thrilled to receive it but also saw it coming.
"I was surprised when I was the 'Business' department award because I hadn't been in a Business class this year, but I do plan on majoring in Music Business at Belmont University," said Ash DeVaughan. "I knew I was going to get the Music/Band award though," she added explaining how she has been in Band, Jazz Band and Pep Band since 6th grade along with three semesters of guitar class. "I also senior mentor in the sixth grade band, so I've put a lot of hours in the music program at Brentwood!" she said, adding with a smile, "It was nice to be recognized by Krener."
"I was shocked by winning the Physical Education award, but I wasn't shocked by winning the Family and Consumer Science Award," said Annsleigh Alexander. "I took all of Ms. Biever's classes and I'm her student aide," Alexander explained as to why she wasn't surprised to win the FACS award. "My favorite of the FACS classes has been Child Development, I feel like it's the most useful."
For every award winner on Senior Night, check out the full list below:
Awards and Recognitions
George Washington Carver Award – Andrew Moran, Eloise Ayotte, Amelia Van Uum, Ian Thornton, Joshua Kelley
Missouri Scholars 100 Program – Eloise Ayotte
Outstanding VICC Graduate – Domonique Taylor
Outstanding Student Leadership Award – Jazelyn Herrera, Eloise Ayotte, Joshua Kelley
Rosemary Zander Award – Reed Durham
Post-Dispatch Scholar Athlete – Ian Thornton
Iron Eagle Attendance Award – Brianna Harris
Growth Award – Brooke Carter, Kayla Howlett
National Career Readiness Certificate – Nick Phillips (Bronze level certificate), Robert Hamilton (Silver level certificate), David Hulshoff (Silver level certificate)
South Technical High School Program Participants – Robert Hamilton, Antoinette Willis
Commitment to Military Service – Bodhi Etheridge, Eric Rojas, Ethan Barks
Recognition of Career Exploration – Domonique Taylor, Kennadie Miller, Brianna Harris, Charlotte Meatte-Kaiser, Nola Buehler, Nicholas Moran, Reed Durham, Sebastian Flores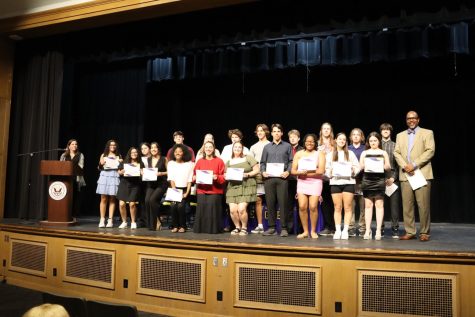 State and Local Scholarships
Horatio Alger Scholarship – Haylie Minshall
A+ Scholarship Program – Ethan Barks, Camile Beck, Kailah Beck, Nola Buehler, Andrew Burlage, Ash DeVaughan, Reed Durham, Luca Gould, Jazelyn Herrera, Joshua Kelley, Gavin Kopp, Ian McAllister, Charlotte Meatte-Kaiser, Nicholas Moomey, Hannah Murphy, Maximilian Pulliam, Ana Sanchez, Domonique Taylor, Katherine Trostel, Nicholas Ventimiglia, Antoinette Willis
Missouri Bright Flight Scholarship Program – Eloise Ayotte, Andrew Cheval, Ash DeVaughan, Ian McAllister, Ian Thornton, Amelia Van Uum, Nicholas Ventimiglia
Brentwood Alumni Association Scholarships – Eloise Ayotte (in honor of Peggy and Steve Fossett Foundation), Jazelyn Herrera, Ian McAllister (in honor of the Brentwood Congregational Church), Nicholas Moomey, Andrew Moran, Nicholas Moran, Amelia Van Uum
Brentwood Boosters Scholarship Program – Katherine Trostel (Leadership Scholarship), Eloise Ayotte (Service Scholarship), Antoinette Willis (Letterman Scholarship), Muhammad Chaudhry (Academic Scholarship), Nina'Symone Arties (Eagle Scholarship)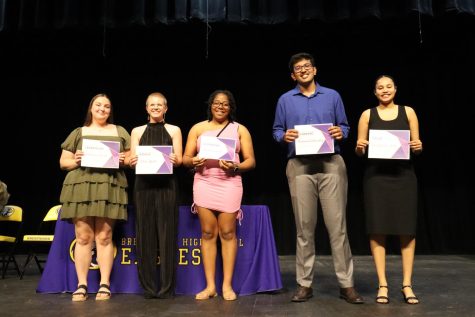 Pay It Forward Scholarship – Domonique Taylor, Kennadie Miller, Nina'Symone Arties, Antoinette Willis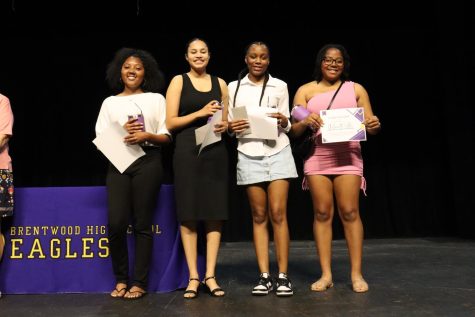 West Community Credit Union Scholarship – Eloise Ayotte
The Wright Stuff Scholarship – Muhammad Chaudhry
Departmental Awards
Business – Ash DeVaughan
Family and Consumer Science – Annsleigh Alexander
Technology – Abhigyann Deep
Industrial Arts/Construction Technology – Nicholas Moran, Nicholas Ventimiglia
Visual Arts – Nola Buehler, Domonique Taylor, Camile Beck, Max Pulliam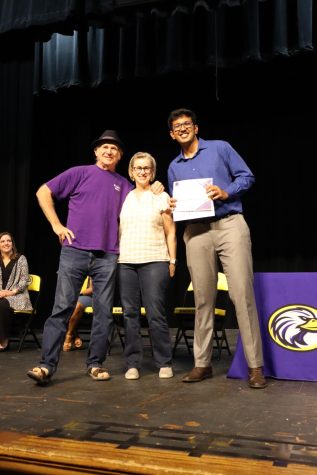 Music/Band – Ash DeVaughan, Ian McAllister
Theatre Arts – Nola Buehler
Language Arts – Lilly Lancaster
Journalism – Eloise Ayotte
Mathematics – Abhigyaan Deep
Physical Education – Annsleigh Alexander, JD Allen
Science – Nina'Symone Arties
Social Studies – Nicholas Moomey, Amelia Van Uum
World Languages – Ana Sanchez
Congratulations, Class of 2023!